Hi. I'm Carter Waugh, the creator of Flip Critts.
I created Flip Critts when I was 8 years old to make you happy, keep you safe and secure and protect your toes. Check them out!
Learn More
Meet the Flip Critt
Flip Critts combine the ease of flip flops, the comfort of slippers and the protection of a clog.
Vibram Outsole
Designed for mountaineering in 1937, Vibram is the gold standard of outsoles.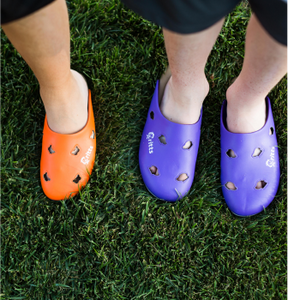 Foam
The midsole is made from sugar cane from southern brazil. The footbed is memory foam wrapped in leather for maximum comfort.
Toe Bar
The toe bar helps keep your foot centered while you enjoy your own Adventurability®.
Flip Critts are a comfy slip on shoe that tick all the boxes I was looking for. They're the perfect shoes for kids - because they were designed by a kid!

Little Hiccups
Critts are that perfect cross between the comfort of sandals and the security of a normal shoes.

Parenting Healthy
Critts are a comfortable, durable, fun shoe to wear. They are accurately named a flip - not a flip-flop, not a shoe but something wonderful right in between.

Cherie Lubash